Basketball
We facilitate 2 basketball courts.
You do not need to be a member to use our courts, for casual usage costs $5 per person, per hour. Please note that during a casual visit you do not have exclusive right to the court and may share a court with another casual user.
If you wish to book the court outright please see our
Court Hire
page.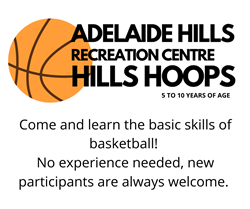 Hills Hoops
Hills Hoops is a beginner basketball program that encourages 5 - 10-year-olds to gain a basic understanding of basketball while having fun.
No prior experience is needed, new participants are always welcome.

Why should you choose Basketball?
Basketball is a phenomenal gate way sport that develops hand-eye coordination, spatial awareness, agility, balance, endurance and working as a team.
Basketball is an inclusive sport that can be played in any weather enabling you to stay warm and dry in winter and avoid the harsh sun in summer, the perfect spectator sport!
As a very social sport, playing basketball helps kids develop their communication and social skills. They learn how to work as a team, talk to others and make new friends.
Being involved in a team sport early in life will enable the kids to associate exercise with enjoyment, and encourage them remain active throughout their life.
Most importantly through playing basketball kids learn that being active is fun!

When: Every Tuesday in school term
Where: Adelaide Hills Recreation Centre, 2 Howard Lane, Mount Barker.
What to Bring: A Basketball and drink bottle.
Who: 5 to 10 years of age
Time: 4 pm to 4.45 pm
Price: $8 per session