Play Club
Play Club is our friendly, safe and fun child-minding service coordinated and run by experienced staff.
Members of Adelaide Hills Recreation Centre access the service with no extra charge.

We believe that exercise should be accessible to the whole community, including parents.
Conveniently offered after the school drop off and with group fitness classes available during this period it is a great to put yourself first and build towards your exercise goals.

The Play Club space holds a variety of toys, small table and chairs, books, colouring station, music, a nappy changing table, hand washing facilities.
To ensure hygiene the facility is cleaned thoroughly during and after each session.

Age
Play Club is open to children 6 weeks - 5years old.

Opening Times
Monday - Friday
9am - 11.30am
Please note the Play Club is closed on public holidays.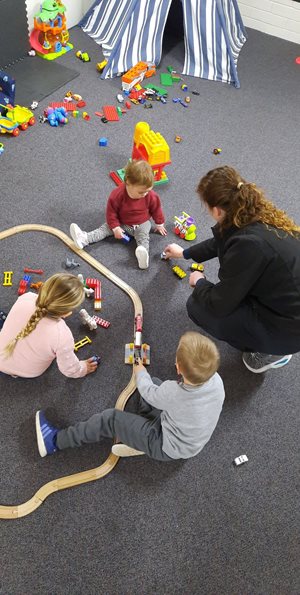 Are snacks provided?
Our staff will only give children any snacks that you bring along with them.
We encourage you to pack a few small items for your child if you are attending the centre during their normal snack time.
We have a cube shelf for any items you bring, a small bag is a great idea to bring with any snacks or water bottles for your child.
What should I expect when I arrive to Play Club?
The first time your child attends Play Club our friendly staff will get you to fill out an enrollment form that includes contact information, allergies and note any other relivent details they may need.

You will then sign your child into the session, you are then welcome to continue into the facility for your class, workout or program.


Can I leave the facility while my child is in Play Club?
No, the gardian that signed the child into Play Club must stay on site untill the child is signed out and collected.
What happens if my child needs me while they are in Play Club?
We understand that children take time to settle into new enviroments with new faces.
When you sign your child in there is a colum asking which area of facility you are using (e.g. Group Fitness, Gym, Badminton). If there are any issues the staff member will come and descreetly find you in the facility.